There are some books in the world that speak right in to your very heart, that echo your exact thoughts and feelings at a certain point in time and which give encouragement, advice and wisdom to your situation.  Ordinary Mum, Extraordinary Mission was that book for me a year ago.  A first time mum, struggling to even just look after and cope with a 4 month old, I stumbled across this book on Eden and just knew I had to buy it.  The tag line spoke about my quandary at that time:

"I wanted to change the world, but I couldn't find a babysitter"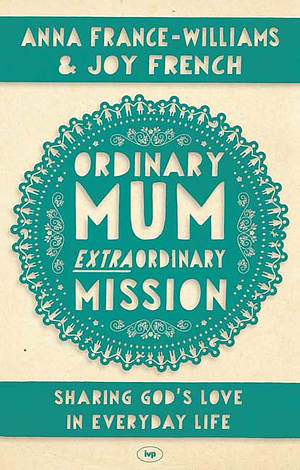 Before I get on to talking about the message of this book and why you should read it if you share my heart for being a mum on a mission, I just wanted to share a couple of things that this book started in my life.


On the back of reading the first chapter of this book I decided that it was too good to keep to myself so I set up a Facebook book club, inviting any and every mum I knew to join me in reading this.  This was such a fantastic couple of months of sharing stories and testimonies and I really believe that this sparked my desire to be a Catalyst and to be the person that does something rather than just thinking about it.

Randomly this book led me to the Activate Your Life website, which is another story altogether, but has opened my eyes to the world of friendship evangelism and the importance of living and sharing the gospel in your everyday life with the people you meet and do life with.
So what is so great about this book?  It is practical and it is real.  And when you only have a few precious minutes of nap time or quietness a day this is really important.  You don't want to read waffle that you can't apply and waste that time of peace that you have to read.  Instead this book gives examples, ideas and inspiration on how you can go out and live your mission as a mother.  Between each chapter there are real life stories of women who are doing amazing things whilst being a mum and there are also some great ideas on how to get your children involved!
I don't want to give too much away but this book really has changed my outlook on my life as a mum and is probably a big part of why I started this blog.  So do yourself a favour and pick one up today – you won't regret it!
P.S.  I think my favourite chapter is a toss up between "Help! My calling got shrunk in the wash!" and "Surrender: Wonder woman must die"